Here at the spice dinner, we love displaying our spices and keeping them as neatly ordered as possibly for ease of use and accessibility, so it is no wonder that we are always on the lookout for the most attractive looking accessories for our ever expanding spice collections.
However, we are aware, that many people tend to keep their spices stuffed at the back of a cupboard in an old biscuit tin to be left to gather dust until you remember to use them. This simply shouldn't be the way that you treat your spices; you should have them out and ready to use so that you can inspiration whenever you need it when you're in the kitchen. These days there are some lovely spice racks and other spice accessories that you can use to not only brighten up your kitchen, but to use and arrange your spices too! Find out some of our favourite picks of spice accessories right here.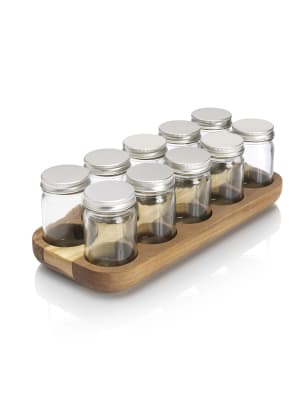 First up is this charmingly simple 10 bottle spice rack from British high-street retailer Marks and Spencer. Made from sustainable wood, you can easily display your 10 most frequently used spices in this spice rack in an elegant and chic way. It is not so large that it will take up valuable surface space in your kitchen, and it does make getting to those all-important spices easy, without the need to showcase your entire collection that included spices that you only use maybe once or twice a year. For a country kitchen and rustic vibe, you can hand-write sticky labels for each of the jars, detailing exactly which spice is which. Or, alternatively, why not use string or ribbon to attach the labels for a DIY look that is worthy of Pinterest inspiration.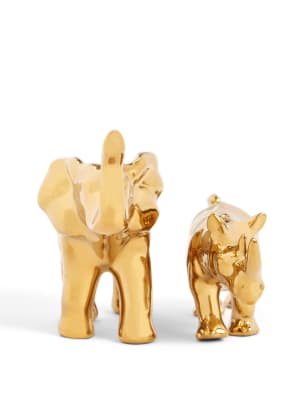 Forget your grubby and chipped salt and pepper shakers, thanks to this gorgeous gold set that is again from M & S, you can be sure of the ultimate chic look when you are adding flavour to your fish and chips. In kitsch gold, this charming elephant and rhino salt and pepper shaker set are sure to set off any table setting with a bit of je ne sais quoi. Made from ceramic and then coated in supremely shiny gold paint, this amazing is also really reasonably priced too, at only £15.
Finally, for a spice rack that everybody will be talking about, why not check out this impressive revolving one from Amazon. Already labelled with your favourite spices from oregano to garlic salt, this spice rack has the capacity to hold up to 16 bottles of spice. With its two-tier and rotating design, even the most compact of kitchens can afford to have this out on display on the counters. It is a practical and modern way to store your most used spices clearly, meaning that you can grab them whenever you need them!